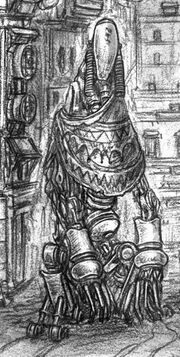 "
Iron golems is the Jewish name. The Vlachs call them werewolves, and our Greek brothers call them Minotaurs.
"
Iron golems are a kind of Ottoman walker. They are used in the Jewish areas of Istanbul, and the Committee for Union and Progress owns some iron golems. They are based on the mythical creature from Jewish folklore (Although in Jewish Folklore they were made of mud), and the writing on the walkers' head probably represents the writing used to animate the golem.
In the series
Edit
When Alek sees the variety of the Committee's walkers, he calls them "a committee of iron golems," and Zaven corrects him by telling Alek about the Committee's other walkers. Klopp and Bauer pilot an iron golem on the night of the Ottoman Revolution. The golem is crushed by the Orient Express and Klopp is injured and must use a cane afterwards. Klopp's injury is one of the reasons that Alek decides to return to the Leviathan.