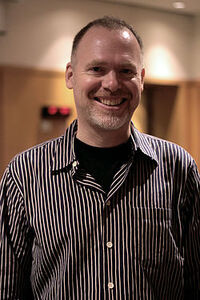 Scott Westerfeld (born May 5, 1963) is the author of the Leviathan series. Born in Texas, he now lives in New York, New York, U.S.A. and Sydney, Australia. His wife is the young adult author Justine Larbalestier. Westerfeld has also written numerous other young adult novels, including the Uglies series, Midnighters series, Peeps, The Last Days and So Yesterday. He has also written the adult series the Risen Empire.
Westerfeld has said that he will not write another Leviathan novel, but he might consider continuing the series in another format, such as a graphic novel. He has also written an unpublished prequel short story which could be considered part of the series.
Bibliography
Edit
Polymorph (1997)
Fine Prey (1998)
Evolution's Darling (2000)
So Yesterday (2004)
Succession series
Edit
The Risen Empire (2003)
The Killing of Worlds (2003)
Midnighters series
Edit
The Secret Hour (2004)
Touching Darkness (2005)
Blue Noon (2006)
Uglies series
Edit
Peeps series
Edit
Peeps (also known as Parasite Positive in Britain and "V-Virus" or "Peeps" in Canada) (2005)
The Last Days (2006)
Leviathan series
Edit
Community content is available under
CC-BY-SA
unless otherwise noted.